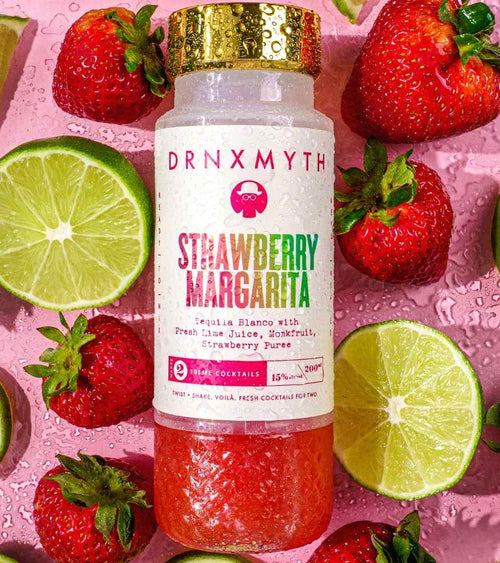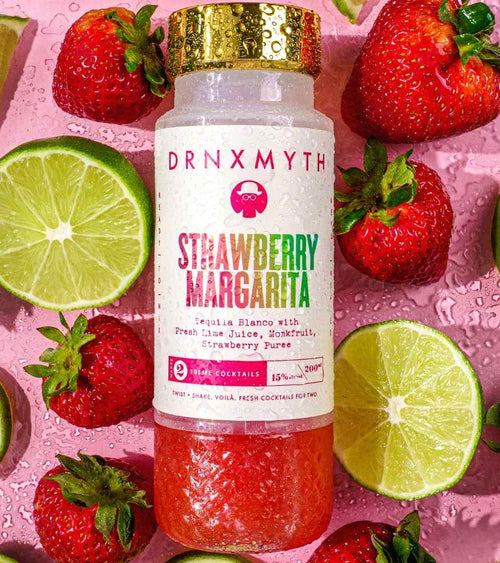 Strawberry Margarita
A fruity and delicious spin on a timeless classic — and without the guilt as we used Monkfruit, a sugar substitute. Slightly thicker in consistently from blending lots of whole strawberries, this is a perfect summer sipper.
Cold-pressed lime juice adds the right amount of acidity for our strawberry spin on the classic mojito. Whole strawberries are blended — giving a real, fruity, and delicious taste. Tequila blanco made in the highlands of Arandas, Jalisco, Mexico, is slow-baked in clay ovens, naturally fermented, and double-distilled in stainless steel pot stills, presenting a remarkably smooth tequila. Each sip reveals graceful earth tones, followed by crisp, sweet citrus, finishing with hints of spice. Monkfruit is a natural sugar substitute that with ketogenic, diabetic, candida, paleo, vegan, low-sugar, non-GMO, and all-natural diets.
Strawberry Margarita Tequila 75 ml Water 26 ml Monkfruit 35 ml Lime Juice 20 ml Strawberry pureé 35 ml 10 Salt Drops
Drnxmyth
No Artificial Ingredients
The Other Guys
No Artificial Ingredients
Try Another Drink
You may also like
Josh Suchan Josh Suchan Josh Suchan Josh Suchan Josh Suchan Josh Suchan Josh Suchan Josh Suchan Josh Suchan Josh Suchan Josh Suchan Josh Suchan Josh Suchan Josh Suchan Josh Suchan Josh Suchan Josh Suchan Josh Suchan Josh Suchan Josh Suchan
The Bartender
Josh Suchan
A rising star in the cocktail industry is Josh Suchan owner of Ice and Alchemy. Since moving to Los Angeles in 2015 he has established and led two unique programs, receiving attention both locally and nationally. The design process, understanding beauty, harmony, and working within contextual parameters are just a few of the immediate relationships he draws between architecture and craft bartending. These principles fuel his inspiration for the bar programs that he designs.
0%
would recommend this product
Susan M.

Verified Buyer

4 months ago

A guilty cocktail

The drink itself was fine. Better then fine even! Cool concept. But the amount of packaging my single drink arrived in was shocking for 2022. My company is completely work from home and they wanted to treat us to a happy hour drink so they sent us each a cocktail of our choice. When I think about how much packaging was used to achieve this I feel awful! Big box, lots of protective paper, and a big old melted ice pack. For one drink! If they can streamline this in the future I would be happy to order from here again.
Reviews Loaded
Reviews Added
Happy Hour Delivered
Send drinks as Gifts!
Sending drinks to friends, guests, clients or team members? Think of us like your cocktail event coordinators. Get our fresh craft cocktails delivered.
Stay in the Mix
Get 20% off When you Subscribe
Get emails about special events, offers, and upcoming promotions. Unsubscribe whenever you want.