Fresh Craft Cocktails, Same-Day Delivery—No Sweat, Even in the Miami Heat
Enjoy same-day delivery and curbside pickup of the best craft cocktails in Miami.
"They've solved a problem that's vexed the spirits industry for years: creating a cocktail with more-or-less fresh ingredients in ready-to-drink form. No heat pasteurization, no preservatives."
"This approach is quite innovative: it keeps the juice ingredients separate from the liquor, therefore preserving their fresh flavor, and it gives the consumer something to interact with."
"Drnxmyth also set up a bartender program to help bartenders commercialize their recipes and bring them to market... And in light of the recent shutdown..."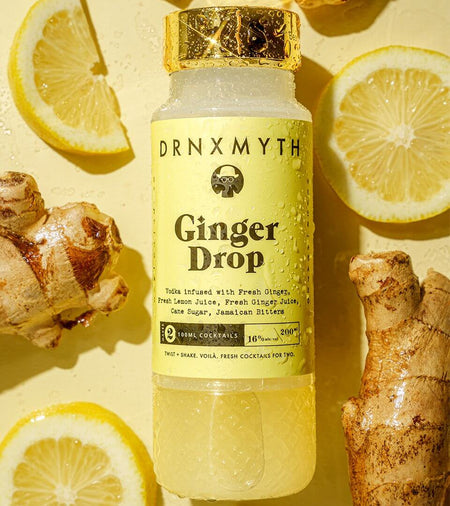 171 Reviews
Ginger Drop
Mixed by &nbsp
Ingredients: Los Angeles Distillery Vodka infused with fresh ginger, fresh lemon juice, fresh ginger juice, cane sugar, Jamaican bitters
2026 Total Reviews
Mixologist Made. Delivered Same Day. Bienvenido a Miami.
We're raising the bar for craft cocktails in Miami with day-of delivery and live order tracking.
Don't leave the fate of your night in the hands of a bouncer. Take control and make the most of Miami's sultry nights with fresh craft cocktails, made from cold-pressed juices and top-notch spirits—perfect for at-home enjoyment of eating ice cream or surfside salsa dancing.
Just the alcohol delivery Miami needs with $10 local delivery to bring you fresh, bartender-made cocktails when the spirit strikes:
You can even track your home delivery order in real-time, so you have an accurate countdown until your first sip of that margarita or craft beer. R Just meet us at your door to sign (with a valid ID, please) and enjoy responsibly.
Thirsty? Browse Miami's Best-Sellers
These popular cocktails are heating up Miami. Check out the city's favorites and try them for yourself.
What to Drink in Miami
What's Miami without a mojito? A cocktail with local roots thanks to the city's large Cuban diaspora, the mojito is classic, sweet and herbaceous.
Typically made from white rum, sugar, mint, lime, and soda water, this quencher pairs as well with hot, humid days as it does with Cubano sandwiches
Bartenders across Miami are up for the challenge, adding tropical fruits and complex bitters to their concoctions. Taste the tart inflection of strawberries in our Strawberry Mojito as berry notes mingle with vanilla and mint-infused water.
Craving a classic? With same-day alcoholic delivery service, you'll be sipping the sweet flavors of a Miami-inspired Strawberry Mojito in no time.
Where to Drink in Miami
&nbsp
Somewhere between the city's tropic haze and the fresh scent of cafecito, you start to feel it: pulsating energy, just as the hot, humid day reaches its crest in South Florida.
Time for an ice-cold handcrafted cocktail, but where? Miami Beach? South Beach? Your Local Liquor Store?
Broken Shaker: Located at the freehand Miami Beach, they are best known for their insane oversized punch bowls of tequila

Sweet Liberty Drinks & Supply Company: Located in South Beach, this place is known for their world class cocktails

The Swizzle Rum Bar & Drinkery: Located in South Beach and is best known for their craft cocktails and speakeasy vibe

Cafe La Trova: Located in the heart of Little Havana and best known for their delicious cocktail in a vibrant Spanish vibe

Champagne Bar: Located at the Four Seasons Surfside, this bar is best known for their large collection of fine champagne

LIV: Located in the Fontainebleau Hotel and is best known for their thriving nightlife full of booze and dancing

But what if you could capture that energy on-demand and at home?
With same-day alcoholic delivery service from retailors on fresh, bartender-made cocktails bursting with tropical flavors, you can. After all, the magic of The Magic City comes from the flavor, the experience, the unique tastes of ice-cold freshness—not velvet ropes or pricey covers.
&nbsp