Innovative Cocktails in a New York Minute
Enjoy same-day delivery and curbside pickup of the best craft cocktails in New York City.
"They've solved a problem that's vexed the spirits industry for years: creating a cocktail with more-or-less fresh ingredients in ready-to-drink form. No heat pasteurization, no preservatives."
"This approach is quite innovative: it keeps the juice ingredients separate from the liquor, therefore preserving their fresh flavor, and it gives the consumer something to interact with."
"Drnxmyth also set up a bartender program to help bartenders commercialize their recipes and bring them to market... And in light of the recent shutdown..."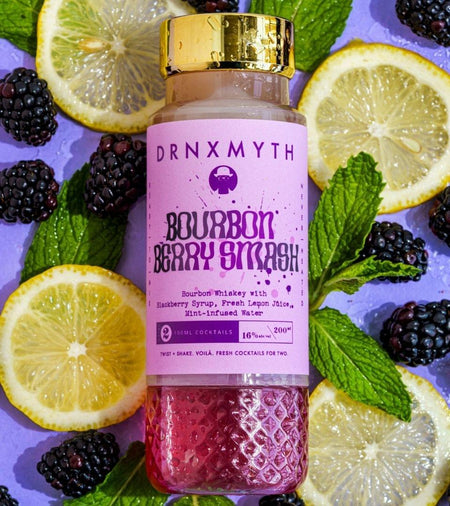 Reviews
Bourbon Berry Smash
Mixed by Saeed 'Hawk' House
Ingredients: Bourbon Whiskey with Blackberry Syrup, Fresh Lemon Juice, Mint-infused Water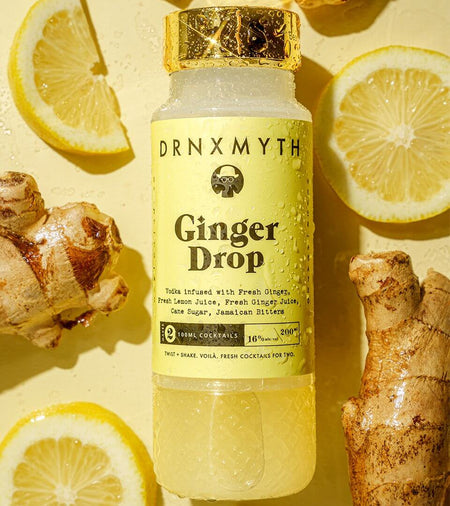 171 Reviews
Ginger Drop
Mixed by &nbsp
Ingredients: Los Angeles Distillery Vodka infused with fresh ginger, fresh lemon juice, fresh ginger juice, cane sugar, Jamaican bitters
2026 Total Reviews
Made with Care. Delivered Fast.
Perfect for New Yorkers.
You can get almost anything delivered in New York City (hello, 3 am burrito). Why should it be any different for fresh, hand-crafted cocktails? We know New Yorkers value quality and convenience. Especially when it comes to alcoholic beverages. That's why we offer several same-day options for the bartender-made cocktail delivery NYC craves:1 to 2-hour cocktail delivery windows for $14.99, 2 to 4-hour windows for $5.99, Curbside pickup at Park Avenue Liquors at 270 Madison Avenue. You can even track your order in real-time, so you'll be able to count down to the arrival of your margarita with lime. And unlike the Subway, our cocktail delivery from retailers in LA is almost never delayed. Just meet us at the door with a valid ID to sign for your bottled cocktails. We'll leave you to enjoy responsibly—unless you'd rather we stay. We've heard that New York's best new cocktail bar is your apartment.
Strong, Spirited, Essential: New York's Most Popular Cocktails
New Yorkers love these cocktails, and we think you will, too—try them out and decide for yourself.
What to Drink in New York City
New York City is a melting pot that thrives on the interplay of old and new. Shifting with time, defined by the interaction of its elements, melding into a sum that's greater than its parts—kind of reminds you of a good craft cocktail, right?
Enter the Manhattan. Forged from rye, vermouth, and bitters, each sip is strong, bitter, slightly sweet, and has withstood the test of time—When you're ready to venture outside of this boozy borough, try the Jack Rose. Heady and fruit-forward, it also smacks of old New York. Plus, Applejack Brandy in the Big Apple? We'll bite.
But NYC has more on its alcohol menus than old standards. Innovation and multiculturalism rule the day—like at Bar Goto, where Pegu Club alumni Kenta Goto inflects martinis in a shaker with sake and cherry blossom and the Eastside with shiso.
Whatever you're in the mood for you can drink like a local at home thanks to our same-day alcohol delivery.
Where to Drink in New York City
&nbsp
In the city that never sleeps, you'll find more than a few good spots to burn your midnight oil with a classic cocktail in Greenwich Village, East Village, Brooklyn, or West Village. With countless glittering blocks that thrum with intrigue and excitement, New York City—and its nightlife and sweet alcoholic drinks—surpasses expectations at every turn.
Through its five bustling boroughs and hundreds of diverse neighborhoods, New York City emerges as a beacon of contrast and contradiction: at once gritty and refined, exhausting and exhilarating, anonymous and intimate.
Ray's Bar:

Found in the Lower East Side, find yourself at Ray's for a buzzy dive bar happy hour
Rainbow Room:

Located

on 65th floor of Rockefeller Center, they are best known for their venue with striking decor & views
The Odeon:

Located in Tribeca, they are best known for their retro haven full of Manhattan's 80s fashion scene
Campbell Apartment:

Located in Grand Central Station, this place is best known for their old fashion cocktail scene
Lemon's:

Located on the roof of the Wythe Hotel in Williamsburg, they are best known for their sunset happy hour full of handcrafted cocktails
La Noxe:

Located in a below-ground speakeasy at a subway station in Chelsea, they are best known for their late night mediterranean energy
Undercote:

Located on W 22nd St, they are best known for their jungle oasis bar
Leyenda:

Located in Brooklyn, they are best known for their Inventive cocktails made with Latin spirits
Bar Goto:

Located on Eldridge St, they are best known for their cocktails & food with a Japanese spin
But despite the inevitable hustle and bustle of the city, any true New Yorker knows that the best place to enjoy a mixed drink paired with food is on their front stoop or fire escape, watching as the city lights flicker and the packs of dreamers drift through the night.
Magical? Yes. Practical? Even more so, because you know just how hard it is to snag a table on a Saturday night for delicious cocktails. That's where we come in: bringing you fresh, mixologist-made craft cocktails to enjoy at home (or on the go) in the time it would take you to make it to the host stand.
&nbsp