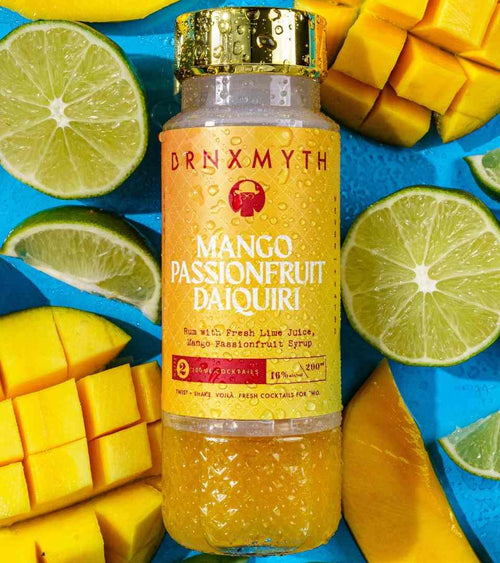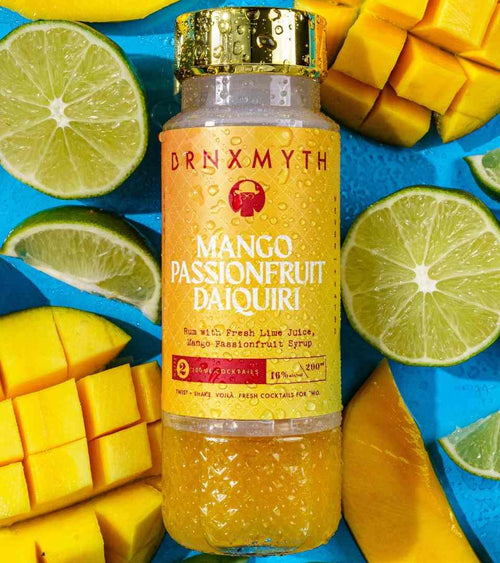 Mango Passionfruit Daiquiri
Tangy. Tropical. Fruity. Rum with Fresh Lime Juice, Mango Passionfruit Syrup
They say time flies when you're having rum. Or something like that. Our Mango Passionfruit Daiquiri is perfection in a bottle. It's got lots of whole mango chunks blended with tart passionfruit puree with dark brown sugar, paired with fresh lime juice. On top is rum from Ron Colon, a funky Jamaican rum from el Salvador.
Nothing Artificial
Cold-Pressed Ingredients
Dark Rum
A blend of El Salvador and Jamaican rums is rich and full-flavored, giving the cocktail that deliciously classic flavor.
Mango Puree
Fresh mango puree is the primary flavor, with a sweet, fruity taste carrying through the entire drinking experience.
Lime Juice
Cold-pressed lime juice adds the right amount of acidity for this daiquiri.
Passionfruit Juice
Passionfruit adds a slightly tart and fragrant aroma and flavor to the cocktail.
Brown Sugar Syrup
Molasses notes in the brown sugar help balance the rum.
Salt Drops
Salt heightens all the flavors, keeping you salivating and wanting another juicy sip.
Drnxmyth
No Artificial Ingredients
The Other Guys
No Artificial Ingredients
Try Another Drink
You may also like
Bad Birdy Bad Birdy Bad Birdy Bad Birdy Bad Birdy Bad Birdy Bad Birdy Bad Birdy Bad Birdy Bad Birdy Bad Birdy Bad Birdy Bad Birdy Bad Birdy Bad Birdy Bad Birdy Bad Birdy Bad Birdy Bad Birdy Bad Birdy
THE MIXOLOGIST
Bad Birdy
BAD BIRDY has been described as "The One Woman Show" creating captivating and intimate experiences for those who seek her. She has become a presence in the city of Los Angeles, in the hospitality industry and across the globe. BAD BIRDY has partnered with some of the greatest brands in the Spirits Industry including Jack Daniel's, Hennessy, Crown Royal, Cazadores, D'usse and many more. She creates global interactions unseen by any other worldwide bartender, and analytics show significant category in youth markets and across sexes.
100%
would recommend this product
Celeste C.

Verified Buyer

8 months ago

Delicious!

This mango daiquiri is one of the best I've ever had!

derek g.

Verified Buyer

8 months ago

just think they are a

just think they are a little on the expensive side

Tasty and great for a beach day...

Not overly sweet. Would love a bit more hint of rum, but I always want a bit more rum...
Reviews Loaded
Reviews Added
Happy Hour Delivered
Send drinks as Gifts!
Sending drinks to friends, guests, clients or team members? Think of us like your cocktail event coordinators. Get our fresh craft cocktails delivered.
Stay in the Mix
Get 20% off When you Subscribe
Get emails about special events, offers, and upcoming promotions. Unsubscribe whenever you want.
Mango Passionfruit Daiquiri