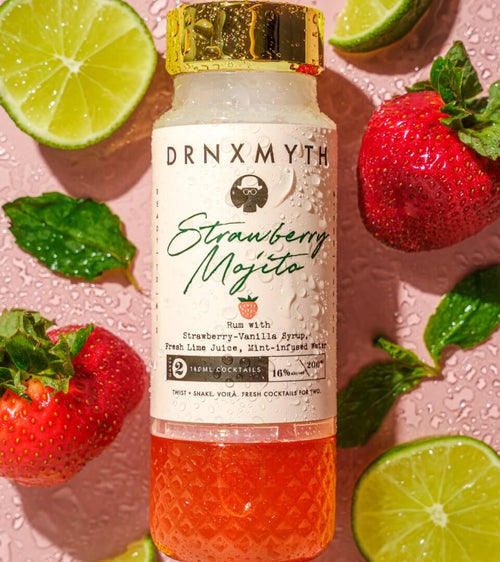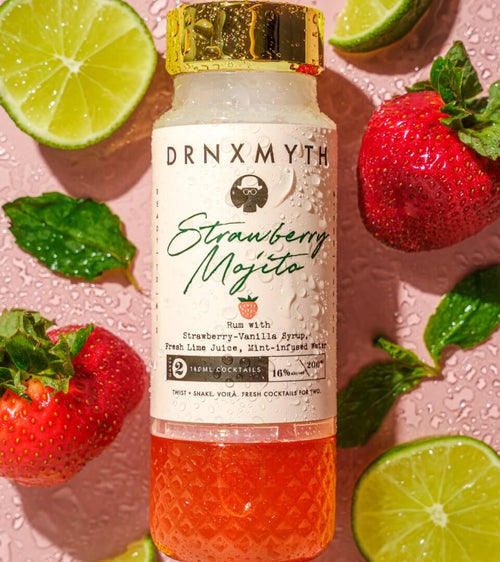 Strawberry Mojito
Our Strawberry Mojito is extremely refreshing, slightly sweet, and perfectly crushable - it's everything you ever wanted a mojito to be — but no one has been able to bottle until now.
Fresh mint is extra-infused into the water to bring an unmistakable mojito character without actually having mint in the bottle. Because we brought down the sugar-to-citrus ratio, it's more sessionable than you'd expect. Our in-house syrup is made with delicious strawberry puree and infused with sweet vanilla, which softens the astringency of the mint, lime, and rum.
Here is the exact recipe — no additives, artificial ingredients, flavorings, or colorants. Just pure cocktail goodness: 2.64 oz. rum; 0.24 oz. water; 0.71 oz. lime juice; 0.71 oz. simple syrup; 0.34 oz. strawberry puree; 2.10 oz. mint-infused water; 0.03 oz. vanilla extract; salt drops
Nothing Artificial
Cold-Pressed Ingredients
Rum
White rum from Panama adds a distinct, smooth booziness.
Strawberry Syrup
Whole strawberries are blended — giving a real, fruity, and delicious taste — and brought to life with a bit of sugar.
Vanilla
Vanilla softens the astringency of the mint, lime, and rum. These Madagascar bourbon vanilla beans are made using a slow extraction process that brings out the deep flavor notes and rich aroma of the forest-grown vanilla.
Mint-Infused Water
To re-create a mint garnish often found in tiki drinks, we infuse fresh, whole-leaf mint in purified water, which naturally extracts not only the mint flavor but the dryness notable in the aftertaste. This prevents the cocktail from tasting too dessert-like, balancing the sweet notes with some vegetal in the most delicious way possible.
Lime Juice
Cold-pressed lime juice adds the right amount of acidity for our strawberry spin on the classic mojito.
Drnxmyth
No Artificial Ingredients
The Other Guys
No Artificial Ingredients
Try Another Drink
You may also like
93%
would recommend this product
Delicious!

The drink was incredibly tasty, not too sweet and not too strong, just perfect!

Tiffany H.

Verified Buyer

5 months ago

Love it just needs more

Love it just needs more strawberry and a little less mint

Erin Kelley B.

Verified Buyer

8 months ago

Very tasty and fresh, it

Very tasty and fresh, it was such a cool gift.

Jenifer S.

Verified Buyer

8 months ago

Easy to use and tasted

Easy to use and tasted great
Reviews Loaded
Reviews Added
Happy Hour Delivered
Send drinks as Gifts!
Sending drinks to friends, guests, clients or team members? Think of us like your cocktail event coordinators. Get our fresh craft cocktails delivered.
Stay in the Mix
Get 20% off When you Subscribe
Get emails about special events, offers, and upcoming promotions. Unsubscribe whenever you want.