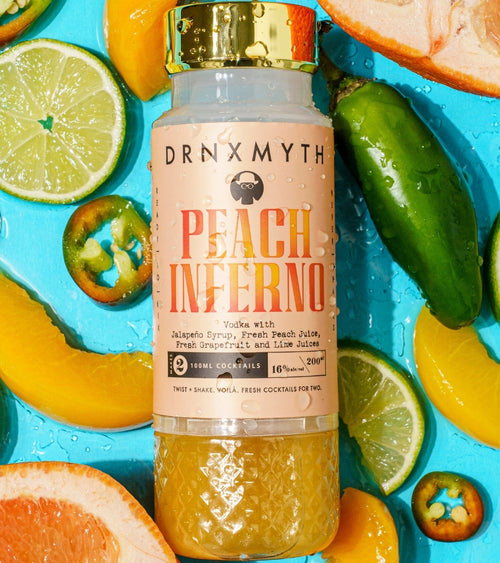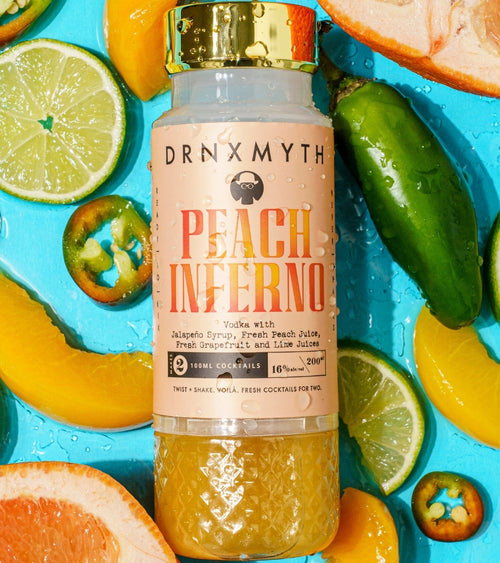 Peach Inferno
Our Peach Inferno is a tantalizingly sessionable blend of Los Angeles Distillery vodka, jalapeño syrup, and fresh peach, lime, and grapefruit juices.
With both stone fruit and spicy notes, you might not think these ingredients would work together. But when your taste buds take that first sip, this creative fusion of flavors kicks off a party in your mouth. The fresh ripe peaches are sourced from central California, and the vodka is made locally at Los Angeles Distillery.
Here is the exact recipe — no additives, artificial ingredients, flavorings, or colorants. Just pure cocktail goodness: 2.71 oz. vodka; 0.27 oz. jalapeño puree; 0.61 oz. simple syrup; 1.93 oz. peach puree; 0.85 oz. lime juice; 0.17 oz. grapefruit juice; 0.17 oz. water; salt drops
Nothing Artificial
Cold-Pressed Ingredients
Vodka
Vodka is made locally in LA from grapes, which adds a softer and more rounded vodka flavor that pairs with the other fruits.
Peaches
Whole peaches are pressed, and the added stone fruit brings richness and mild flavor.
Jalapeño Syrup
Whole jalapeños are blended and strained, then sugar is added to bring out the heat and vegetal notes.
Lime Juice
Cold-pressed lime juice adds the right amount of acidity for this unique cocktail.
Grapefruit Juice
Cold-pressed grapefruit juice adds acidity and a mild tart flavor.
Drnxmyth
No Artificial Ingredients
The Other Guys
No Artificial Ingredients
Try Another Drink
You may also like
$12
Ginger Drop
Vodka, Lemon Juice, Ginger Juice, Cane Sugar, Bitters
$12
Hibiscus Haze
Hibiscus Flower, Cinnamon, Cold-Pressed Lime Juice, Cane Sugar & Mi...
100%
would recommend this product
Angela S.

Verified Buyer

3 months ago
Reviews Loaded
Reviews Added
Happy Hour Delivered
Send drinks as Gifts!
Sending drinks to friends, guests, clients or team members? Think of us like your cocktail event coordinators. Get our fresh craft cocktails delivered.
Stay in the Mix
Get 20% off When you Subscribe
Get emails about special events, offers, and upcoming promotions. Unsubscribe whenever you want.